29 September 2015 / Ester
A guide to Berlin
EAT
The Bowl – clean eating — Warschauer Str. 33, 10243 Berlin
Goodbye junk food, hello crunchy salads! This vegan and raw food restaurant always has something new, surprising and deliciously healthy in store for your taste buds.
Shiso Burger — August­straße 29c, 10117 Berlin
Asian inspired burgers that taste better than any burger you've ever had!
Ban Ban Kitchen — Hermannstrasse 205, 12049 Berlin Neukölln
Korean burgers, kimchi fries and an ice-cold ginger beer? Don't be deterred by the long line at this tiny take-out and try their soy-bulgogi cheese burger. The perfect fast food!
Le Bon — boppstraße 1, 10967 Berlin
Poached eggs, banana bread and delicious sourdough bread. Le Bon knows what's best for breakfast!
BullysBakery — Friedelstraße 7, 12047 Berlin Neukölln
Rice pudding, raspberry, cake. These three words alone should convince you to pop into this place.
Neni (rooftop restaurant 25 Hours Hotel Bikini) — Budapester Str. 40, 10787 Berlin
Neni is renowned for its mix of Persian, Russian, Arabic, Moroccan, Turkish, Spanish and German food. Besides the amazing view of West Berlin, the indoor greenhouse and brightly coloured furniture will make you feel like it's summer all over again! Pure pleasure!
Cookies Cream — Behrenstraße 55, 10117 Berlin
Parmesan dumplings with coriander carrots, beetroot in a lemon sauce and asparagus with a pumpkin-apple chutney. Even the most fanatic meat eater will have a hard time passing up on this. Creative food in relaxed surroundings. The perfect place to kick off your evening.
DRINK
No Fire No Glory — Ryckestraße 45, 10405 Berlin
Here you are bound to run in to scores of hip young parents who enjoy visiting Berlin's coffee bars with their offspring during the weekend. Besides the excellent coffee by the Coffee Collective Roastery, they also serve bagels with salmon and avocado.
The Barn — Auguststrasse 58, 10119 Berlin
Enter and you will undergo a digital detox. Because the owner of The Barn does not allow laptops or iPads in his coffee bar! It is a great place to enjoy your coffee without the distractions of the worldwide web.
Westberlin — Friedrichstrasse 215, 10969 Berlin
If you have a penchant for interior design, then this coffee bar is the right place for you. Take a break and leaf through the many interior design books while enjoying a nice cup of coffee.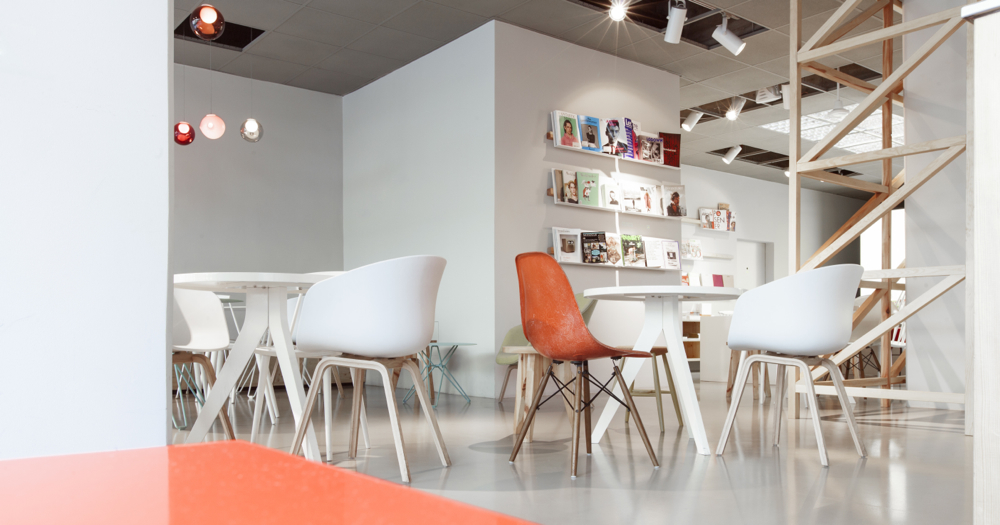 Bitte Café — Glogauer Straße 6, 10999 Berlin
Berlin's newest coffee spot is well on its way to becoming more popular than the iconic 5 Elephant coffee roastery. Bonus points: falafel for lunch.
Buchholz — Joachimstraße 20, 10119 Berlin
Buchholz is a collaboration between Lokal, Kantine and Buchholz furniture makers. The interior and the food are very appealing. The menu was deliberately kept simple: a salad, a soup and three types of flat bread sandwiches.
VISIT
Pro Qm book store — Almstadtstrasse 48-50, 10119 Berlin
The only definition we can think of for Pro Qm is "the perfect bookshop". Enter and you will instantly feel as if you are browsing a friend's library. They sell literature, as well as books about art and design. Definitely worth visiting!
LOCAL Store — conscious shopping — Fidi­cin­straße 17, 10965 Berlin
This concept store sells high quality products but what's more, all the products were produced locally and are fair trade. Whether you are buying Vaseline, toothpaste, raw denim jeans or vodka.
Hallesches Haus — Tempelhofer-Ufer 1, 10961 Berlin Kreuzberg
A place where you can enjoy coffee made with Tom's Kaffeerösterei's best beans, can find the most beautiful succulents and cacti, and other daily necessities such as candles, soap bars, flatware and posters? Hallesches Haus has it all and more!
Kochtail ­— Invalidenstraße 150, 10115 Berlin Mitte
Nothing can be more fun than spending time in the kitchen cooking. At Kochtail you can spend hours browsing for the right kitchen gadgets. Paradise for amateur chefs!
Ting ­— Rykestraße 41, 10405 Berlin Prenzlauer Berg
Ting literally means "things" in Danish but also means "take your time" in Chinese. But what makes a store a good store? The fact that you have discovered some fun products there and spend more time browsing than you had planned. At "Ting" you can buy interior design items and accessories as well as stationery for your next snail mail.
Arena Badeschiff —

Eichenstraße 4, 12435 Berlin
A swimming pool on the River Spree with a bar and music: pool party anyone? ­
Markthalle Neun — Eisenbahnstraße 42-43, 10997 Berlin
Markthalle Neun is hardly a new kid on the block. In fact, it has been around for over 120 years. On Thursdays, from 5 p.m. until 10 p.m., this is the place to go for the best street food in the city.
Teufelsberg —

Teufelsseechaussee 10, 14193 Berlin
In the centre of Grunewald, to the west of Berlin, the Teufelsberg (or Devil's Mountain) looms over Berlin. There is a mysterious building on this mountain. These are the ruins of a World War II American monitoring and espionage station. One of the coolest places in the city, with a view of Berlin to boot!
Bikini Haus — Hardenbergplatz 2,10623 Berlin
Think Box Park in London, but in a market hall in Berlin. 17,000 sq.m. of trendy pop-up shops. We recommend you make some time to visit this place ;-)
Paper & Tea — Bleibtreustraße 4, 10623 Berlin
Paper & Tea is probably the best tea shop in Berlin, no, scratch that, the best tea shop in the world. Sophisticated tea drinkers will find everything they need here. Their collab with Our/Berlin Vodka (an infusion kit & cold brew set) has been spotted around the world.
The Store x Soho House — Torstrasse 1 10119 Berlin
The Store is a new retail, art and hospitality lifestyle concept by Soho House Berlin, curated by Alex Eagle. A 2,800-sq.m. space, where visitors feel as if they have just stepped into a private home. Here you can co-work, have a bite to eat, a coffee, shop, visit exhibitions and more. Everything is on sale here, from the armchair you sit in to the candle that is burning on the table you are lunching at.
Berlin Festival — Eichenstraße 4, 12435 Berlin
If you enjoy techno and house music, then visit Berlin next year for the 2016 Berlin Festival. But remember, there is no campsite at this festival. So don't forget to book accommodation in Berlin!